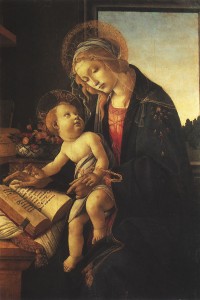 During the Liturgy of the Word at Mass, we hear the proclamation of the Kingdom of God in the various lectionary readings, pre-eminently in the Gospel.  In the Liturgy of the Eucharist, that Kingdom is made sacramentally present in the Body and Blood of Jesus.  Recall that when Jesus began His public ministry, He read from the Book of Isaiah in the synagogue and then said, "Today, this Scripture is fulfilled in your hearing" (Luke 4:21).  That happens at every Mass.  Not only do we hear about God's Kingdom, it is actually fulfilled in us through the Eucharist:  "The Kingdom of God is in the midst of you" (Luke 7:21).
Let's imagine ourselves sitting on the side of a hill in Galilee, listening to Jesus speak. We would have a choice:  either we hang on every word, knowing they are all for us, or we let ourselves be distracted by our own thoughts, the old familiar friends that always flit through our minds, mostly uninvited but making themselves at home anyway.  Suppose, as Jesus was finishing up, He called out to the crowd:  "He who has ears to hear, let him hear."  Depending on the choice we made about listening, our response would either be, "Yes, this Kingdom is for me," or "What?  What did He say?  What was that??"
Reading the lectionary before Mass greatly increases our ability to "hear" what Jesus says in all the Scripture readings, because all Scripture is about Jesus and actually is Jesus (it is the written Word of God—that's why it gets incensed at Mass).  The liturgical silences after the various readings give us an opportunity to silently respond to Jesus in His Word.  If we haven't paid attention to the reading or have not tried to understand it, our "response" will simply be a passive waiting until the next movement in the Mass.  The Scripture is meant to "enlighten the mind, strengthen the will, and set men's hearts on fire with the love of God" (Dei Verbum 23).  Is that happening for you during the Liturgy of the Word?  If not, more attention to the lectionary readings before Mass might help.