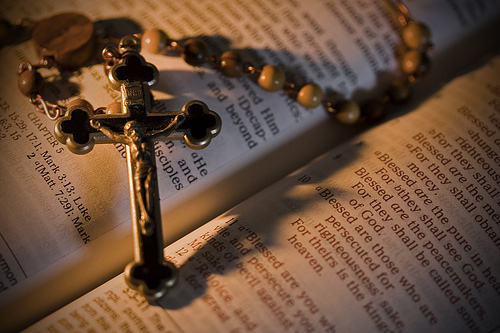 For Catholics who are eager to respond to Vatican II's call back to Scripture, picking up a bible and knowing how to begin can be overwhelming.  Cor Ardens Scripture Studies (CASS) were developed to help Catholics build basic familiarity with biblical history, characters, language, and typology.  Here's what you should know about CASS:
Four studies in the series (Genesis, Exodus, Luke, Acts) that reveal the simple outline of the essential story of Scripture, which is the story of God's blessing on man.  From them we understand how man and woman got God's blessing, how they lost it, how God promised to give it back, and what He did to keep His promise.
Each lesson contains questions on the text, some commentary, and opportunities for personal application.
The number of lessons in each study ranges from 20-22.
Studies are designed for group use, although some have used them individually; to help a study leader prepare, there are responses to the questions in the back of each study.
Studies are keyed to The Catechism of the Catholic Church and make frequent references to the wisdom of the Fathers of the Early Church.
Studies are distinctively Catholic in that they help the reader to see how the Church has been faithful to Scripture in the development of dogma, liturgy, and morality.
CASS were developed for use in the Diocese of Phoenix and have been well-received by study groups in parishes here and throughout the US.
The Genesis Study has been published in two parts and is available from Emmaus Road by following this link. The other studies are available in .pdf files which can be printed and used individually or in groups.  The sample files below are available free for download and review. The files include an introduction to bible study for Catholics, and samples of the Exodus, Luke, and Acts studies. The full studies are available for $10 per use. For more information, please contact us at info at corardens dot com.
Cor Ardens Scripture Study Intro
This file is a sample of the Exodus study, containing the first three lessons.
Cor Ardens Exodus Sample.pdf
This file is a sample of the Luke study, containing the first three lessons.
Cor Ardens Luke Sample.pdf
This is a sample of the Acts study, containing the first three lessons.
Cor Ardens Acts Sample.pdf